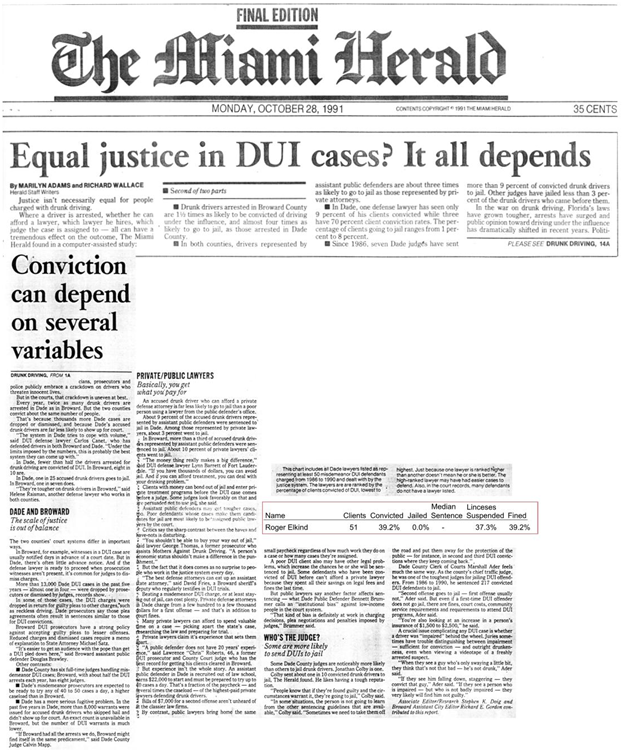 Justice isnt necessarily equal for people charged with drunk driving. Where a driver is arrested, whether he can afford a lawyer, which lawyer he hires, which judge the case is assigned to — all can have a tremendous effect on the outcome. The Miami Herald found in computer-assisted study:
Drunk Drivers arrested in Broward County are 1.5 times as likely t obe convicted of driving under the influence, and almost 4 times as likely to go to jail, as those arrested in Dade County

In Both counties, drivers represented by assistant public defenders are about three times as likely to go to jail as those represented by private attorneys
In Dade, one defense lawyer has seen only 9 percent of his clients convicted while three have 70 percent client conviction rates. The per-centage of clients going to jail ranges from 1 per-cent to 8 percent.

Since 1986, seven Dade judges have sent more than 9 percent of convicted drunk drivers to jail. Other judges have jailed less than 3 percent of drunk drivers who came before them.
In the war on drunk driving. Florida's laws have grown tougher, arrests have surged and public opinion toward driving under the influence has dramatically shifted in the recent years. Politicians…