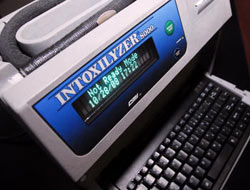 Today's breath tests are taken on an instrument called the Intoxilyzer 8000R. This device measures your breath with a special infrared light to determine how much alcohol is in your blood at the time you blow into it. The breathalyzer device must be tested monthly as well as annually and must be registered and calibrated with the FDLE (Florida Department of Law Enforcement).
     Pursuant to Florida DUI Statutes, the breath test legal limit is .08 (about two drinks for most people). The problem that arises is this: the time you give your breath sample is typically at the station, not at the time when you were stopped by the police. There are cases in which the police take up to two hours to administer this breath test. Therefore, your breath test does not accurately reflect your blood-alcohol level at the time you were driving. In fact, your breathalyzer rating can be significantly higher or lower than what it was at time of driving. However, if you choose to refuse the breathalyzer test, your driver's licence will more than likely be suspended and you will be arrested.
     Other factors that affect the accuracy of the results are the time of your last drink (Beer, Wine, Liquor, your body size and weight, your metabolism (most people take up to 90 minutes to start burning off alcohol, and the time/amount you last ate. I will question all of the above, and if necessary, hire an expert witness to testify about all of the inconsistencies using the above information as well as accuracy of the machine.