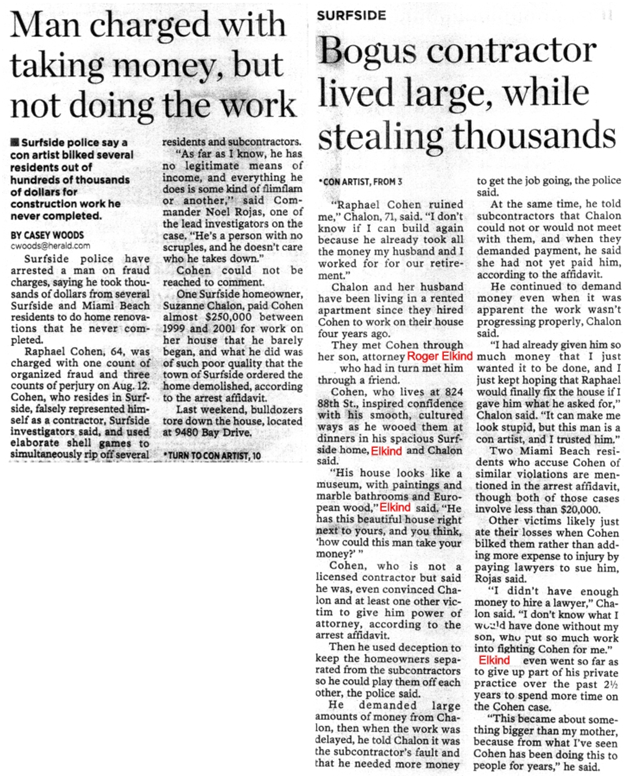 Surfside police say a con artist bilked several residents out of hundreds of thousands of dollars for construction work he never completed.
by Casey Woods
cwoods@herald.com
Surfside police have arrested a man on fraud charges, saying he took thousands of dollars from several Surfside and Miami Beach residents to do home renovations that he never completed.
Raphael Cohen, 64, was charged with one count of organized fraud and three counts of perjury on August 12.Cohen, who resides in Surfside, falsely represented himself as a contractor, Surfside investigators said, and used elaborate shell games to simultaneously rip off several residents and subcontractors.
"As far as I know, he has no legitimate means of income, and everything he does is some kind of flimflam or another," said Commissioner Noel Rojas, one of the lead investigators on the case. "He's a person with no scruples, and he doesn't care who he takes down."
Cohen could not be reached to comment.
One Surfside homeowner, Suzanne Chalon, paid Cohen almost $250,000 between 1999 and 2001 for work on her house that he barely began, and what he did was of such poor quality that the town of Surfside ordered the home demolished, according to the arrest affidavit.
Last weekend, bulldozers tore down the house, located at 9480 Bay Drive.
"Raphael Cohen ruined me," Chalon, 71, said. "I don't know if I can build again because he already took all the money my husband and I worked for for our retirement."
Chalon and her husband have been living in a rented apartment since they hired Cohen to work on their house four years ago.
They met Cohen through her son, attorney Roger Elkind, who in turn had met him through a friend.
Cohen, who lives at 824, 88th Street, inspired confidence with his smooth, cultured ways as he wooed them at dinners in his spacious Surfside home, Elkind and Chalon said.
"His house looks like a museum, with paintings and marble bathrooms and European wood," Elkind said. "He has this beautiful house right next to yours, and you think, 'how could this man take your money?'"
Cohen, who is not a licensed contractor but said he was, even convinced Chalon –  and at least one other victim – to give him power of attorney, according to the affidavit.
Then he used deception to keep the homeowners separated from the subcontractors so he could play them off each other, the police said. He demanded large amounts of money from Chalon, then when the work was delayed, he told Chalon it was the subcontractor's fault and that he needed more money to get the job going, police said.
At the same time, he told subcontractors that Chalon could not or would not meet with them, and when they demanded payment, he said she had not yet paid him, according to the affidavit.
He continued to demand money even when it was apparent the work wasn't progressing properly,
Chalon said. "I had already given him so much money that I just wanted it to be done, and I just kept hoping that Raphael would finally fix the house if I gave him what he asked for," Chalon said. "It can make me look stupid, but this man is a con artist, and I trusted him."
Two Miami Beach residents who accuse Cohen of similar violations are mentioned in the arrest affidavit, though both of those cases involved less than $20,000.
Other victims likely just ate their losses when Cohen bilked them rather than add expense to injury by paying lawyers to sue him, Rojas said.
"I didn't have enough money to hire a lawyer," Chalon said, "I don't know what I would have done without my son, who put so much work into fighting Cohen for me."
Elkind even went so far as to give up part of his private practice over the past 2 1/2 years to spend more time on the Cohen case.
This became about something bigger than my mother, because from what I've seen Cohen has been doing this to people for years," he said.