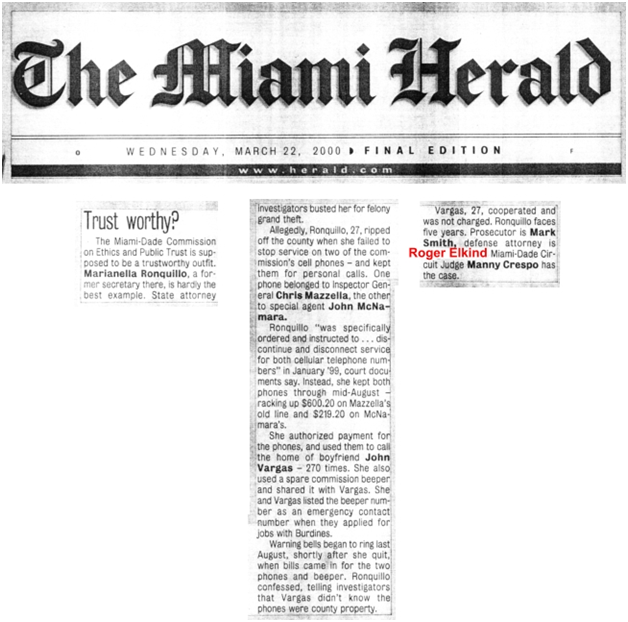 The Miami-Dade Commission on Ethics and Public Trust is supposed to be a trustworthy outfit. Ms. M. Ronquillo, a former secretary there, is hardly the best example. State attorney investigators busted her for felony grand theft.
Allegedly, Ms. Ronquillo ripped off the county when she failed to stop service on two of the commission's cell phones – and kept them for personal calls. One phone belonged to Inspector General Chris Mazzella, the other to special agent John McNamara.
Ms. Ronquillo "was specifically ordered and instructed to.. discontinue and disconnect service for both cellular telephone numbers" in January '99, court documents say.
Instead, she kept both phones through mid-August – racking up $600.20 on Mazzella's old line and $219.20 on McNamara's.
She authorized payment for the phones, and used them to call the home of her boyfriend – 270 times. She also used a spare commission beeper and shared it with the boyfriend. Both listed the beeper number as an emergency contact number when they applied for jobs at Bur dine's.
Warning bells began to ring last August shortly after she quit, when bills came in for the two phones and the beeper. Ms. Ronquillo confessed, telling investigators that her boyfriend didn't know the phones were county property.
The boyfriend cooperated and was not charged. Ms. Ronquillo faces five years. Prosecutor is Mark Smith, defense attorney is Roger Elkind. Miami-Dade Circuit Judge Manny Crespo has the case.